Mannheim, November 28, 2016
Since January 20, 2016, the cogeneration power plant has supported the cement production of the Tabuk Cement Company in Duba with power and heat energy generated by the distributed power plant. The handover of the turnkey CHP plant represents an important milestone in the history of Caterpillar Energy Solutions: The cogeneration power plant, which is designed for continuous operation in the medium-speed range, is the first of its type ever installed by Caterpillar Energy Solutions in Saudi Arabia. "We are very proud of having been awarded the contract for the construction of the turnkey power plant solution of the Tabuk Cement Company",  says Dean Powell, Director Global Sales and Marketing of Caterpillar Power Plants.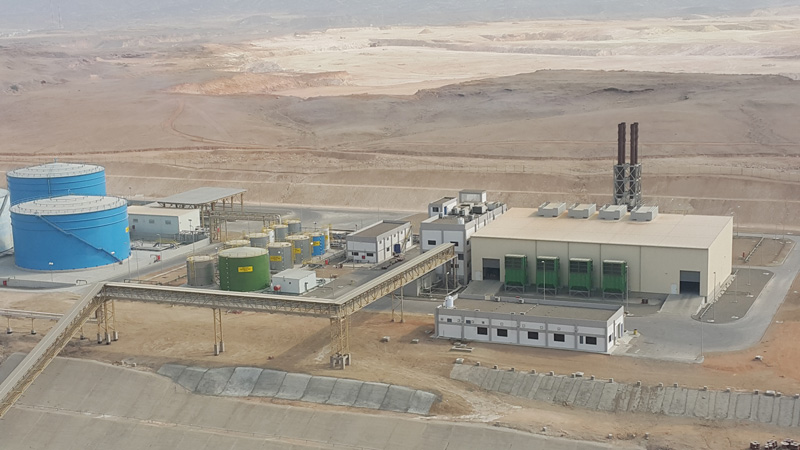 The turnkey handover and commissioning of the cogeneration power plant to Tabuk Cement Company represents the first step of Caterpillar Energy Solutions into the Saudi Arabian CHP market in the medium-speed range.
Four Cat 16CM-32 gas engines with a total capacity of 30 MW form the core of the cogeneration power plant, which had already been ordered by the Tabuk Cement Company in late 2014 in the course of a production expansion. The gensets run on heavy fuel oil. Moreover, the CHP plant has been designed in such a way that further Cat gensets can be added in the future.
Suitability of the Cat 16CM-32 Engine Series for Deployment in Saudi Arabia
The four 16CM-32 gas engines produce about 7,760 kWel. Due to their high efficiency, low lifecycle costs and reduced need for maintenance, they are especially suitable for supplying a cement production plant in a desert state like Saudi Arabia with power. The Tabuk Cement Company, which had already operated a power plant with eight generators prior to its collaboration with Caterpillar Energy Solutions, chose Cat gas engines for their reliability and user friendliness. In addition to the generators, Caterpillar supplies equipment and services for the project.
Caterpillar Energy Solutions Supports Infrastructural Change
Saudi Arabia is currently in a phase of infrastructural change and residential construction. For this reason, the cement industry is performing better than most other industries on the Arabian peninsula. Thus, the government of Saudi Arabia has ordered the construction of new cement plants and the expansion of existing plants. Caterpillar Energy Solutions is proud of having entered and won over the Arabian energy market in this time of change.