Mannheim, March 02, 2017
Innovation, process quality, operational excellence, product quality, diversity management and sustainability are the key criteria for receiving the prestigious "Chairman's Award", which Caterpillar hands out once a year to honor excellent achievements from its own ranks. This year, a sustainable energy management system of Caterpillar Energy Solutions in Mannheim has been nominated for the sustainability award.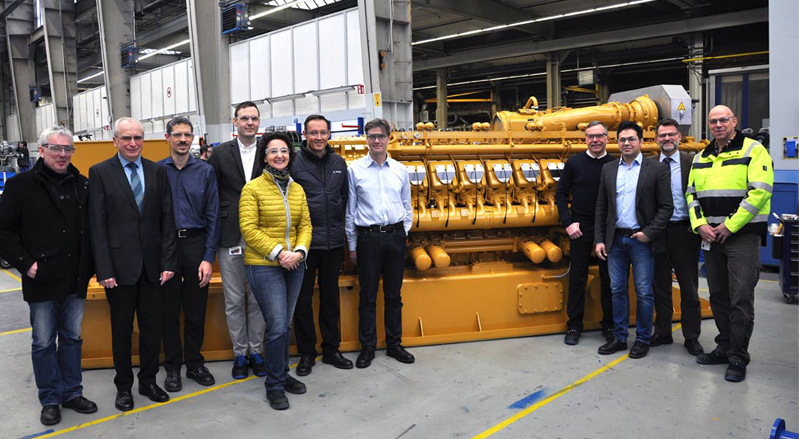 At the company site, a cross-departmental team has managed to implement an energy system that transforms the waste heat and mechanical energy generated when testing gas engines into power and heat energy, thereby reducing the dependence on the public grid by 99 percent (2016 compared to 2009).
Caterpillar Energy Solutions Believes in Sustainability that Pays
Previously, the mechanical energy generated in numerous quality and product tests was merely transformed into thermal energy and remained unused. Thanks to the efforts of the developer team, some changes in the test bed, and the installation of power generators that generate electrical energy from mechanical energy, Caterpillar Energy Solutions has found a sustainable way to supply the company site with power, while at the same time feeding in most of the generated power (two thirds) into the public grid.
Endorsement of the Energy Management System by Mannheim City
Through the sale of the alternative energy to the power grid, Caterpillar Energy Solutions contributes to Mannheim city's goals to increase energy awareness of citizens and improve the efficiency of the energy supply. For this, the city has already honored the innovative project with an award for outstanding environmental efforts.
Now the Mannheim team is excitedly looking forward to the Chairman's Award ceremony.