Mannheim, August 15, 2018
Highly qualified employees form the basis of our success. For this reason, Caterpillar Energy Solutions, the renowned provider of gas engines, full-fledged gas power plants, CHP plants, and cogeneration power plants for distributed energy generation under the Cat and MWM brands offers committed and ambitious young people various apprenticeship options.
Successful candidates can look forward to a pleasant work atmosphere and outstanding career prospects in a global company marked by long-standing tradition. For the 2019 apprenticeship term, we are looking for high-school graduates (general university entrance qualification, university of applied sciences entrance qualification, secondary school graduation, or similar qualifications) who would like to apply to Caterpillar Energy Solutions for one of the following options:
Business administration
Industrial mechanics
Mechatronics
Integrated degree program: Various bachelor's degrees
The integrated degree program is conducted in cooperation with the Baden-Württemberg Cooperative State University (DHBW) in Mannheim, Germany, which always starts in October. German integrated degree programs combine hands-on learning in our company with academic learning and enjoy a high level of international recognition.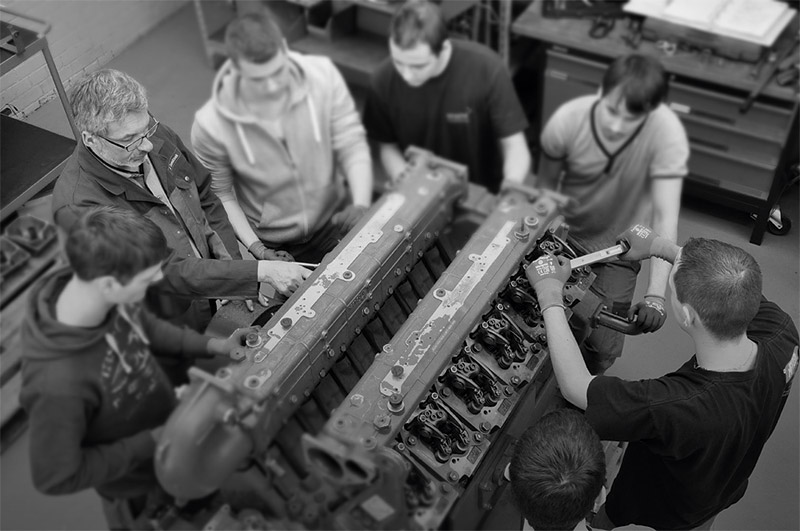 Identifying and Promoting Personal Strengths
Our apprenticeships closely interlink theory and practice. Caterpillar Energy Solutions welcomes candidates who are motivated, stress-tolerant, and capable of mastering tasks in an independent, target-oriented manner. We promote their personal strengths and offer them an exciting, colorful training program that includes the involvement in a social project in which the apprentices learn much about themselves and the work in team. In this world of rapid change, many young people are looking for a secure job. An integrated degree program can offer such security, as the apprentices have good chances of being offered a permanent contract after they pass their final exam. As an innovative employer, Caterpillar Energy Solutions offers various job and training opportunities that form an excellent basis for a professional career.
If you would be interested in an apprenticeship with our company, apply to us as soon as possible by e-mail. For an online application, please include your cover letter, your résumé, a photograph, as well as any letters of reference.
Send your application to: ausbildung@mwm.net
Trendsetting Tradition
Driven by the idea of being able to produce energy wherever it is needed, automobile inventor and pioneer Carl Benz developed the world's first stationary gas engine in 1880. In 1871, Benz founded "Mechanische Werkstätten Mannheim", paving the way for the innovative further development and production of gas gensets. The company's history of 150 years is still noticeable on the Mannheim premises: The product name "MWM", which goes back to its inventor Carl Benz and now belongs to the Caterpillar Group, has become a globally leading brand alongside "Cat". The ongoing further development and numerous patents make the engines from Mannheim unique in their area.
Further information: