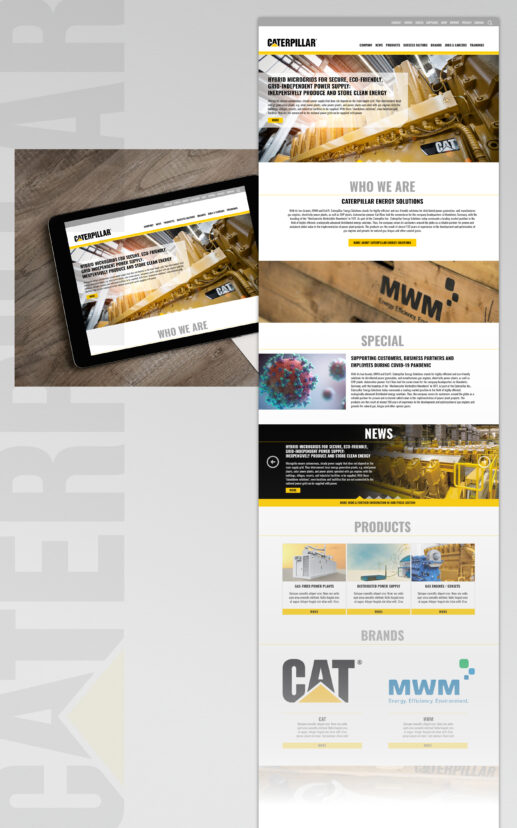 Mannheim, January 14, 2021
With its corporate website relaunch, the Mannheim-based traditional company Caterpillar Energy Solutions GmbH has upgraded its corporate communication. Apart from the ongoing further development and digitization of trend-setting gas engines and power gensets of the Cat® and MWM brands, Caterpillar Energy Solutions has also renewed its website in the context of its holistic digital strategy, presenting itself in the clear corporate design of the global Caterpillar Group.
The redesigned website www.caterpillar-energy-solutions.com focuses on the subjects of quality, success factors, brands, jobs and career, events, and training, establishing a new highlight with its unique charm and modern layout. A substantial need for information about the company as an attractive employer exists especially in the field of human resources (HR) and recruiting. This is also obvious from a survey recently conducted by "FOCUS MONEY", in which Caterpillar Energy Solutions again reached a high score, improving its ranking as a top traditional company in the engineering category by another two places.
While redesigning the website, the team made sure that it would be easy to use and in conformity with a holistic online strategy. "Caterpillar Energy Solutions has continually expanded its extensive information offering with additional digital platforms. As recently as October, we had supplemented the presence of the MWM product brand in the digital world with an 'MWM Energy Blog' in addition to the channels that already existed in social networks such as Facebook, LinkedIn, and YouTube", explains Frank Fuhrmann, Manager PR & Online Marketing. The technical and visual restructuring of the website has made it even easier for website visitors to find product information about the MWM and Cat brands as well as services for gas engines deployed in CHP plants and cogeneration power plants.
Since 2013, Caterpillar Energy Solutions has represented the renowned product brands Cat and MWM. Both brands stand for highly efficient, eco-friendly combined heat and power (CHP) plants for distributed energy generation. In Mannheim, Germany, Caterpillar Energy Solutions develops trend-setting, powerful products, services, and technologies for the worldwide field of distributed energy supply with gas engines.
The straightforward menu structure and the revised design enable website users to find the information they are looking for faster and more systematically. The graphical concept of the responsive website is adapted to the requirements of the device used, e.g. a desktop, laptop, tablet, or smartphone. The relaunch and the new design of the website effectively convey the innovative drive of Caterpillar Energy Solutions to the public by means of the digital corporate presence.