Mannheim, May 12, 2015
Caterpillar Energy Solutions was honored with the World Media Festival Award 2015, winning the golden Intermedia-Globe Awards in the category of Sales Promotions. The prize was awarded for the product video "Cat Modular Power Plant – The Modern Energy Solution", which demonstrates the configuration of a CAT power plant element as part of a Modular Power Plant. The official award ceremonies were held in Hamburg on May 6, 2015.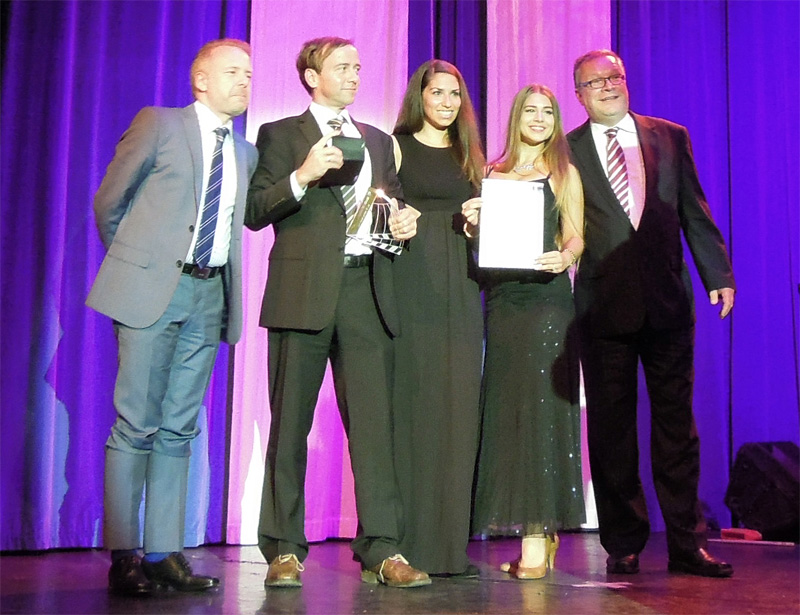 The film was produced in cooperation with the production partner Motionplan. The event and film agency from Mannheim, an expert in the field of corporate films, already collaborated with the company on the production of the documentary film 60 MW Around the World (World Media Award 2010 Silver Medal).
"The perfect medium"
The resulting film footage, combined with animated 3D graphics, illustrates the configuration and installation of a Modular Power Plant. These modular system power stations are a proprietary development which can be quickly built by means of pre-fabricated components and without major construction measures in only 12 days.
The roughly three-minute film shows that the compact Modular Power Plants from Caterpillar Energy Solutions can be set up practically anywhere on the globe, thus offering quick availability of power and heat, especially in economically underdeveloped regions. "The video is the perfect medium to demonstrate the capability in supplying dependable, eco-friendly heat and power from a Modular Power Plant," said Willy Schumacher, Managing Director of Caterpillar Energy Solutions.   
World Media Festival Award – one of the highest distinctions worldwide
The World Media Festival Award recognizes excellence in international film, television, web, print and web TV productions. It is a recognized symbol for the highest production standards in modern communication and is considered one of the most important awards worldwide. "This year, over 700 films from 35 countries were entered in this international competition for communications professionals, so it is quite an honor for our team to win this award," commented Frank Fuhrmann, film producer and news media consultant, Caterpillar Energy Solutions.
The jury, made up of seasoned experts in the field of film and video production from around the world, above all praised the combination of 3D animation and real pictures. Marcus Seip, CEO of Motionplan, also appreciates this combination: "The professional film footage lends credibility and authenticity to the computer-animated models. That is especially important from a sales perspective."