Mannheim, March 2, 2016
Having worked for Caterpillar for 27 years, Willy Schumacher is now set to retire. Schumacher was responsible for Caterpillar's global gas engine-based power plant solution business and served as Chairman of the Board of Directors of Caterpillar Energy Solutions GmbH in Mannheim, Germany, since November 2011. Previously, he had been in charge of the development of the entire Electric Power Division business in Europe, Middle East, Africa and the CIS. The development of the Mannheim site into the "Gas Center of Excellence", which involved extensive investments in research and development, human resources, production facilities, and building structures, is one of his major achievements. "At the Mannheim site, Caterpillar has an excellent long-term perspective. For example, we plan to continually expand our research activities. After all, efficiency levels are approaching 50 percent. All in all, we boast an outstanding position in a highly profitable business, though the industry is currently bottoming out due to the worldwide reluctance to invest", observes Willy Schumacher.
For Caterpillar, the energy segment has long become a key component. The company already generates more than one third of its total revenues in this segment. For a number of years, the Mannheim-based traditional company MWM, which had been founded by Carl Benz in 1871, has been part of Caterpillar, which has become a leading provider in the field of decentralized energy supply with its Cat and MWM brands. "As an innovative provider of efficient and reliable solutions for decentralized energy supply with gas engine-powered CHP plants, MWM blends in perfectly with the global  Electric Power Division", says Schumacher.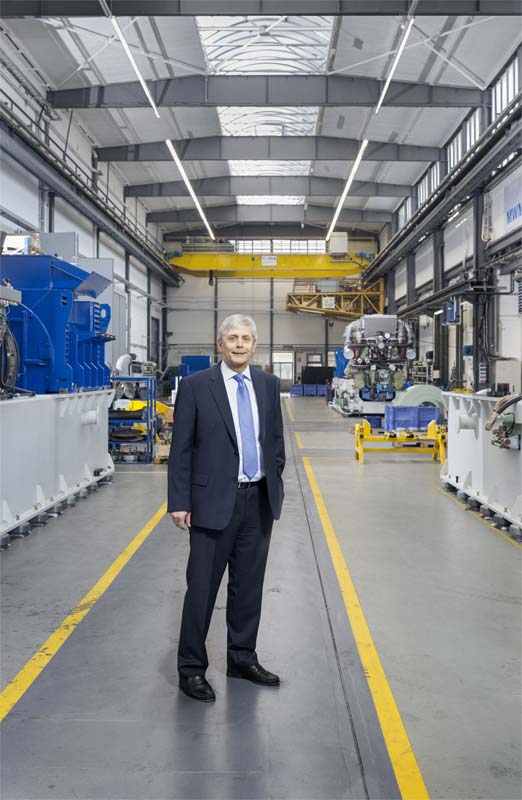 Willy Schumacher was born in Solothurn, Switzerland, in 1954. In his home country, he initially studied engineering and embarked on his professional career with the Swiss company Sulzer in the field of gas turbine system planning and later in the diesel engine department. Subsequently, he joined Caterpillar. "Back then, I had decided for Caterpillar especially because of the prospect of working for an enterprise that is very active around the globe. At the time, Caterpillar had also newly entered the medium-speed engine business and was looking for market expertise. That was exactly what I had been doing since my graduation from university", says Schumacher, talking about his career stages. Upon retirement, he plans on returning to Switzerland.
On March 1, Schumacher's successor Dan G. Sundell assumed his office as the new CEO. He is responsible for the management of both Caterpillar Energy Solutions GmbH in Mannheim, Germany, and Caterpillar Motoren GmbH in Kiel, Germany, thereby supporting Caterpillar´s Electric Power Division (EPD) and Marine und Petroleum Power Division (MPPD). He has been with Caterpillar for more than 27 years. Caterpillar appreciates Sundell as a courageous, visionary manager. Sundell holds a Bachelor's degree in Computer Science and a Master's degree in Business Administration from Bradley University, USA.