For many years, Caterpillar Energy Solutions has supported the Pediatric Oncology unit of the Mannheim University Hospital (UMM). In mid-December, Peter Körner, Dr. Fernando Cantú, and Frank Fuhrmann handed over a check worth €10,000 to Prof. Dr. Schroten, Medical Director of the Pediatric Clinic, and Dr. Dürken, Leading Physician of the Pediatric Clinic of the UMM, on behalf of the company.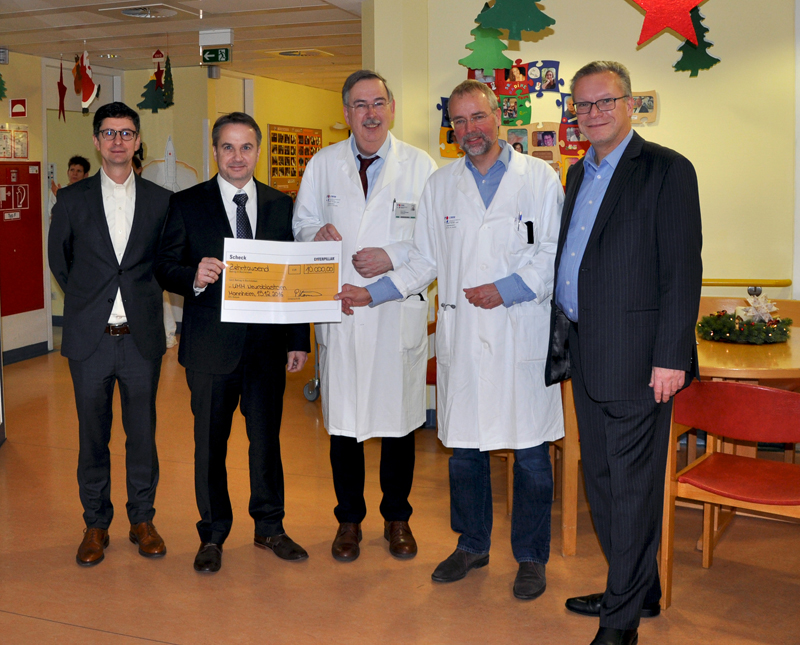 The Pediatric Oncology unit of the Mannheim University Hospital treats about 35 new pediatric cases a year. Thanks to the progress made in the field of research, the healing rate has already reached 80 percent, especially in the case of leukemia. Thus, four in every five children throughout Germany are healed permanently.
The donation of Caterpillar Energy Solutions is used for the research project "Brain metastases of pediatric cancer". The project mainly examines the question by means of which mechanism the cancer cells penetrate the virtually tight blood-brain barrier and settles in the brain. Conversely, the medical specialists investigate how the spread of metastases into the brain can be prevented.
With its donation, Caterpillar Energy Solutions makes a significant contribution to the treatment of childhood cancer.