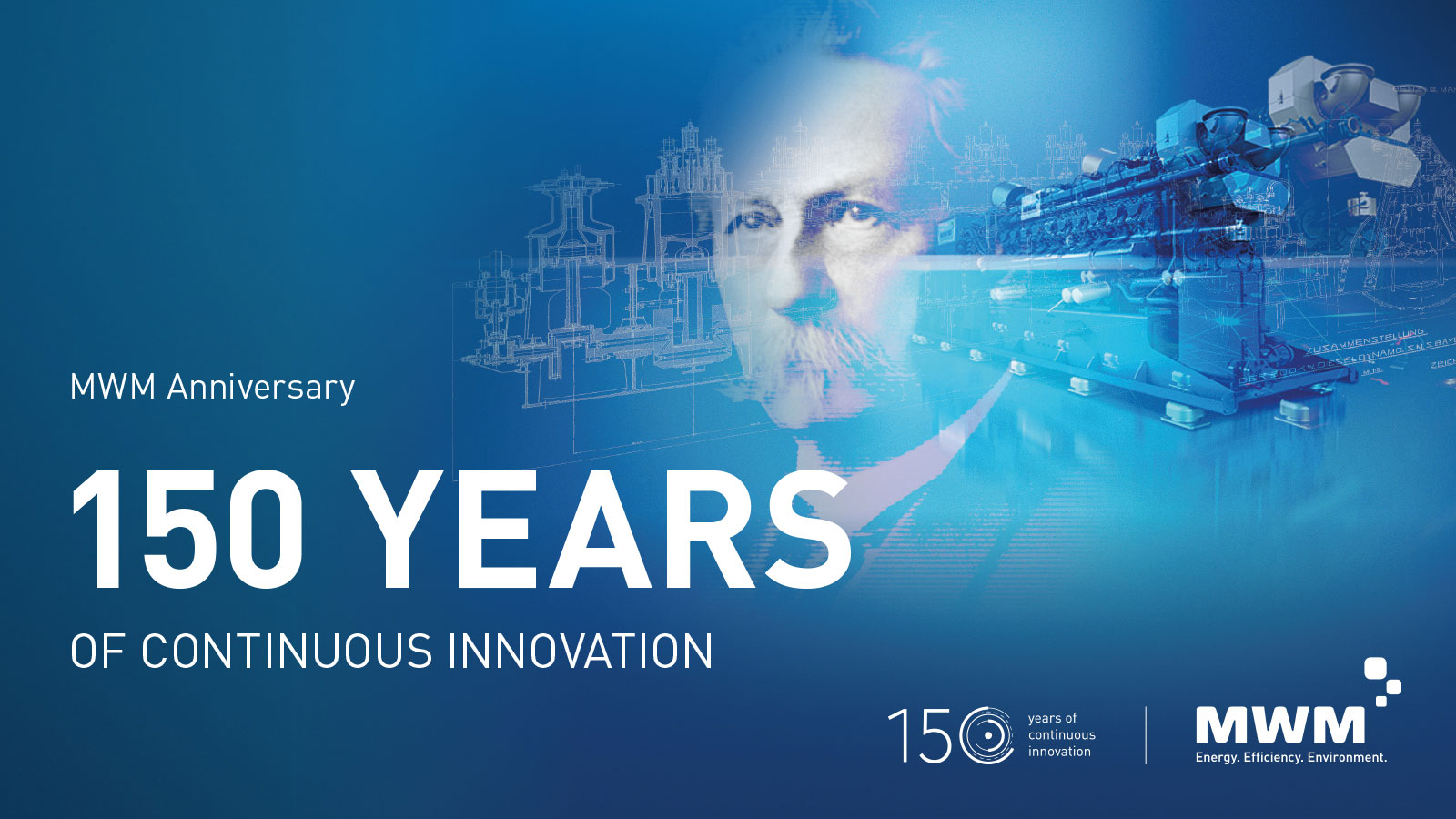 Mannheim, February 1, 2021
This year, the Caterpillar Energy Solutions product brand MWM celebrates its 150th anniversary. "Looking back at the past years, the company is happy and proud of what it has achieved. If at all possible under the current circumstances, we plan on duly celebrating the event", says Christian Wurst, Head of Marketing of MWM. On the occasion of the anniversary, MWM has planned a number of campaigns and surprises to commemorate its history of 150 years.
MWM: A Brand with a Long History
Over the years, the combination of tradition, innovation, and a quest for ongoing further development has turned MWM into one of the world's leading and most respected brands in the field of gas engines and power gensets. In 1871, automotive pioneer Carl Benz founded the "Mechanische Werkstätte" in Mannheim, laying the cornerstone for the company. In 1879, the company manufactured its first two-stroke gas engines for permanent operation, and in 1922, Benz & Cie. became "Motoren-Werke Mannheim A.-G." or MWM. In 1932, the company started developing small diesel engines for industrial and agricultural applications, and in 1979, MWM celebrated the 100th anniversary of the development of the first two-stroke gas engine and the launch of gas engine manufacturing in Mannheim. Since 2013, MWM has been part of Caterpillar Inc.
Powerful Gas Engines and Cogeneration Power Plants, Comprehensive Service Offering
As the digitization progresses and the energy market changes, so do the requirements for MWM gas engines and the needs of customers. Therefore, the eco-friendly MWM cogeneration power plants and combined heat and power plants for distributed economic energy generation are designed to make effective use of renewable energies. In addition to the extensive range of MWM services, digital platforms and plant controls have been developed in order to support customers even more systematically and further increase the performance of MWM CHP plants.
Book about MWM's 150-Year History
On the occasion of the 150th anniversary, the company plans to publish a detailed overview of the history and development of the MWM brand in the form of a book. Upon release, the book, which will be published in English and German, can also be ordered via the MWM Web Shop. Besides this book, the pipeline contains a number of other campaigns, which will be rolled out in the course of the anniversary year 2021.
"We are pleased to celebrate this significant anniversary with our employees, service partners, and customers, and we would like to express our appreciation for the trust shown in our gas engines, products, and service offerings for 150 years", says Peter Körner, Managing Director of Caterpillar Energy Solutions.
Further information: