Mannheim, February 14, 2018
With its Cat CG132B series, Caterpillar Energy Solutions has introduced a new generation of gas engines to the market which, in combination with the fully digitized Total Plant & Energy Management (TPEM), ensure maximum efficiency and availability of CHP plants. Thanks to TPEM, the Cat CG132B power genset is perfectly designed for the challenges of eco-friendly energy solutions in the digital age of Industry 4.0.
Revolutionized Efficiency, Service-Friendliness, and Security of Cogeneration Plants through Integration of Digital Power Plant Control and State-of-the-Art Gas Engine Technology
With its new, fully integrated digital power plant control TPEM, Caterpillar Energy Solutions sets a new control standard for gas engines and distributed energy solutions. All power plant data are unified in one system, and the Cat CG132B gas gensets are controlled by the hardware and software solution custom-developed by Caterpillar Energy Solutions, eliminating the need for other controls. Through the additional integration of relevant key functions such as synchronization, generator and network power switch, and remote access, TPEM revolutionizes all previous control systems for cogeneration power plants that are available on the market.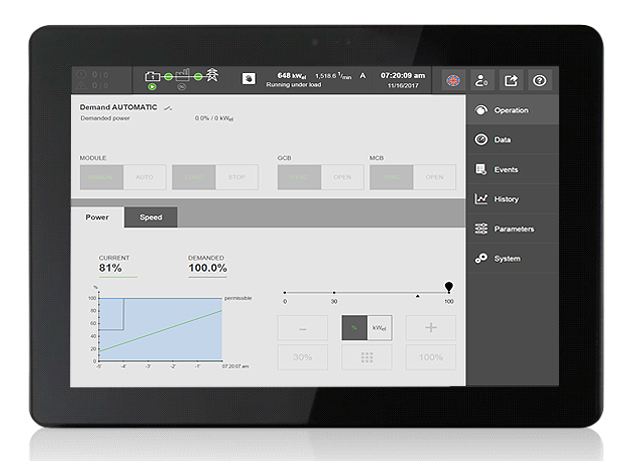 Maximum Efficiency, Performance, and Flexibility through Industry 4.0 Readiness of CHP Plants
The powerful Cat CG132B also impresses with its high efficiency and its ability adaptability to customer needs. To a significant extent, the economic benefits from the deployment of Cat CG132B are attributable to the optimum control of the energy generation with the TPEM control technology. On a user-friendly 15″ touchscreen, TPEM provides a wide range of data concerning the status of the power plant and saves them for up to a year, enabling improved oil management and much shorter maintenance times of the CHP (combined heat and power) plant through systematic planning.
The integrated plant control TPEM is the result of years of experience in the control of gas engines. It already meets the requirements of ISO 27001 and has been certified according to the medium-voltage directive of the German Association of Energy and Water Industries (BDEW). Further information on the digital power plant control of Caterpillar Energy Solutions is available here: Industry 4.0 Readiness through Digital Plant Control Boosts Efficiency and Security of Gas-Powered Cogeneration Power Plants.