Mannheim, April 18, 2016
The development, planning, manufacturing, and operation of custom-tailored, economically feasible energy solutions involve enormous challenges. Throughout the 140+ years of our company's history, the enthusiasm and innovative drive of our team have resulted in a steady flow of innovations. Our workforce has played a key role in making Caterpillar Energy Solutions GmbH with its renowned MWM and Cat brands a leading provider in the field of gas engines, generator sets, combined heat and power plants, and gas applications. To remain successful, every enterprise needs a highly qualified team and a pipeline of highly qualified junior team members. To ensure this, MWM trains its own junior staff of tomorrow. Caterpillar offers excellent professional perspectives for dedicated, ambitious, highly productive people. The company welcomes candidates who are motivated, stress-tolerant, and capable of mastering tasks in an independent, target-oriented manner.
In its revised brochure, Caterpillar Energy Solutions GmbH provides information on the various training and degree options. Caterpillar's application-oriented training in mechatronics, industrial mechanics, or business administration as well as the integrated program for a Bachelor of Science, Bachelor of Engineering, or Bachelor of Arts degree open the door to various career opportunities.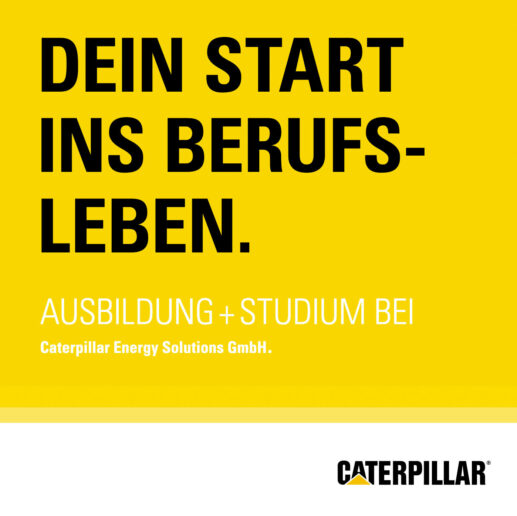 Futher information in our training brochure:
Download PDF: DE
Brochure on Issuu: DE.
Together with four other Mannheim-based engineering and industrial enterprises, Caterpillar also offers opportunities for young people within the framework of the hands-on year ("berufspraktisches Jahr" – BPJ), a project of the European Social Fund, the State of Baden-Württemberg, the employment agencies, and the Baden-Württemberg Employers' Association of the Metal and Electrical Industry. The program for the training posts usually runs one year and is especially designed for those looking for a training post, preparing them for standard training.
Further information on this subject (in German) is available at:
http://www.morgenweb.de/nachrichten/wirtschaft/wirtschaft/zweite-chance-auf-ausbildung-1.2514522