Mannheim, June 7, 2023
In 2021/22, Caterpillar Energy Solutions proudly celebrated the 150th anniversary of the MWM brand. Guided by Carl Benz's pioneer spirit, the company has established an impressive tradition of innovation ever since its foundation back in 1871. 150 years later, that spirit of innovation is still alive at the facilities on Carl-Benz-Strasse in Mannheim, Germany, and continues to motivate the workforce. Today, the company has become a globally leading provider of gas engines, generator sets, and CHP plants for distributed energy generation. Through the use of state-of-the-art technologies and sustainable solutions, Caterpillar Energy Solutions has made a major contribution to the energy transition.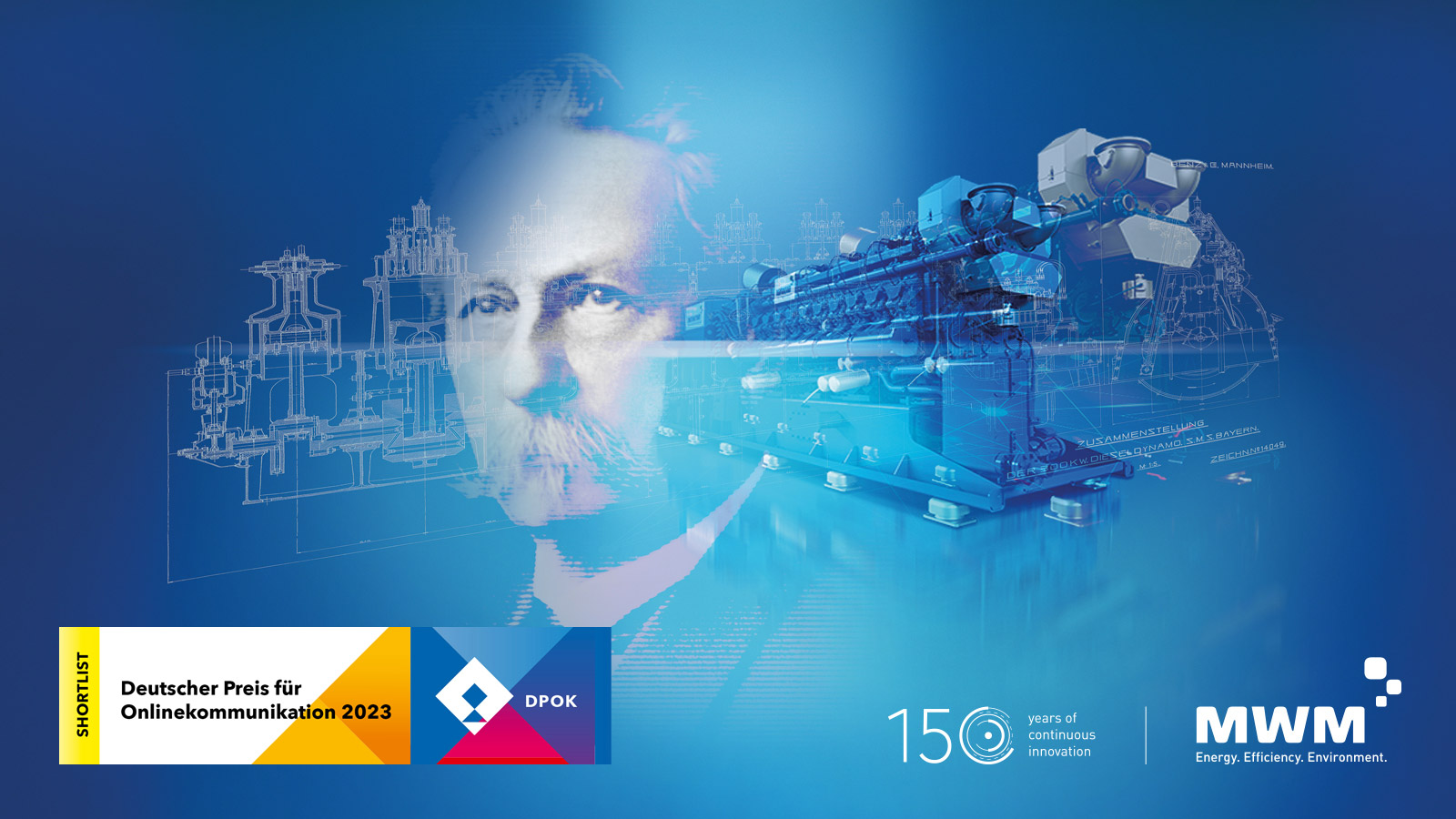 The success story of Caterpillar Energy Solutions and its MWM brand offers an enormous and emotional potential for internal and external corporate communication. The company's outstanding anniversary projects, which were submitted for the German Online Communication Award (DPOK) 2023 in the "Industry & Engineering" category, reached the top 5 of more than 500 submissions. The winners are determined by the DPOK jury by way of an anonymous online voting process, which makes the award especially meaningful.
The DPOK award show in Berlin on June 30, 2023 will be an unforgettable evening on which Caterpillar Energy Solutions and other top companies will be honored for their excellent performance in the field of external and internal brand communication. Caterpillar Energy Solutions is proud of the milestones it has achieved and would like to express its gratitude to all employees, customers, and distributors who have contributed to this ongoing success story. In line with its tradition of innovation, the company will continue to deliver trend-setting solutions for the energy industry in the coming years.
About Caterpillar Energy Solutions
With its MWM and Cat brands, Caterpillar Energy Solutions GmbH is a globally leading provider of generator sets, gas engines, and distributed energy generation plants. Building on its more than 150-year tradition of innovation, the company offers sustainable solutions for efficient, reliable energy supply. Caterpillar Energy Solutions is part of Caterpillar Inc., one of the world's largest manufacturers of construction machinery and mining equipment.
About the German Online Communication Award (DPOK)
The renowned German Online Communication Award (Deutscher Preis für Onlinekommunikation – DPOK) honors the outstanding performance of organizations in the field of digital and online communication. The award is bestowed in various categories, including corporate communication, campaigns, social media, influencer marketing, etc. The award, which is organized by "KOM" magazine and Quadriga, is bestowed once a year. From the submitted projects, the winners are determined by an independent jury. The award increases the public perception of the nominees and winners. Furthermore, it offers all participants an excellent network forum.
150th Anniversary Video
Watch on YouTube
Languages:
EN
|
DE
|
RU
|
CN
Further information