Mannheim, May 8, 2017
The announcement of Jim Umpleby, CEO of Caterpillar, via live stream on March 31 that this year's Caterpillar Excellence Award for "Process Sustainability" would go to Caterpillar Energy Solutions caused great joy in Mannheim.
The award is conferred in recognition of the development of an innovative, sustainable energy management system at the company site of Caterpillar Energy Solutions in Mannheim, Germany. Jim Umpleby praised the achievement of the entire team, drawing attention to the innovative drive and the yearly ecological and economic savings enabled by the new energy management.
Process Sustainability Award Honors the Development and Implementation of a Sustainable, Innovative Energy System in Mannheim
At the company site in Mannheim, a cross-departmental team has managed to implement an energy management system that transforms the waste heat and mechanical energy generated when testing gas engines into power and heat energy, thereby minimizing the dependence on the public grid. Apart from supplying Caterpillar Energy Solutions, the optimum utilization of primary energy generates enough energy to feed in about two thirds of the generated power and heat energy into the public grid of the city of Mannheim. By means of this sustainable process, Caterpillar Energy Solutions is able to save about €1.8 million and approximately 4,000 t of carbon a year.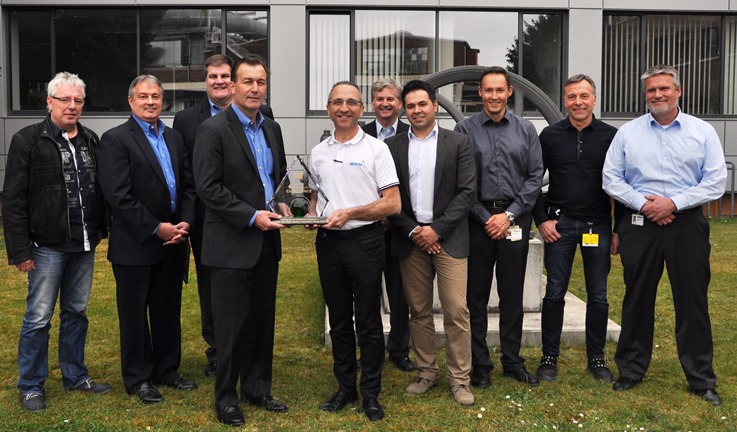 The international Caterpillar community was impressed by the energy system, which thus won one of the renowned awards. The Caterpillar Excellence Awards (formerly known as Chairman's Awards) are conferred on Caterpillar teams around the globe in various categories in recognition of expertise and projects that represent the values of Caterpillar with excellence.