Mannheim, August 12, 2021
As a developer and head of the stationary engine production unit, engineer Prosper L'Orange made a significant contribution to the success of the MWM brand. In recognition of his inventive genius, the Kurpfälzer Meile der Innovationen (Electoral Palatinate Mile of Innovations) association and Caterpillar Energy Solutions have set up a commemorative bronze plaque on the sidewalk in front of Mannheim Palace. A number of descendants of L'Orange attended the memorial celebration from Switzerland. The plaque was sponsored by Caterpillar Energy Solutions.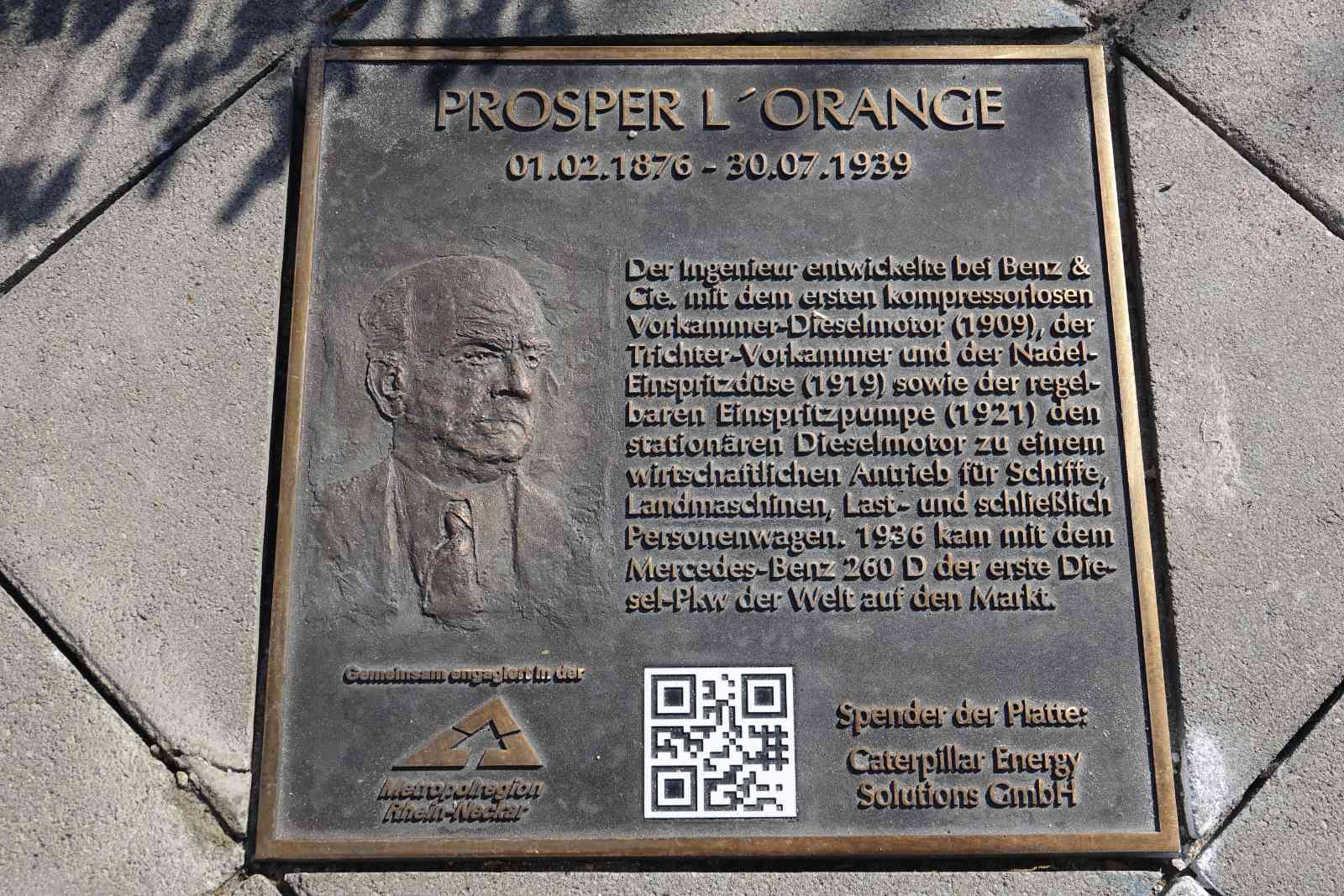 Further Development and Optimization of the Diesel Engine
Inventor and engineer Proper L'Orange developed the first compressorless diesel engine. In 1906, After his graduation from university, L'Orange was put in charge of the R&D department of the gas engine factory Deutz, where he did research on a compressorless type of diesel engine. In October 1908, L'Orange joined MWM, then known as Benz & Cie., in Mannheim. In his capacity as department head, he reorganized the stationary engine production. In the following years, L'Orange continued to develop the oil engine into a fast-running vehicle drive. His most remarkable inventions include the further development of the indirect injection principle, the adjustable injection pump, and the funnel prechamber.
"His Inventive Genius Is Still Noticeable Throughout the Company"
Following the era of company founder Carl Benz, the beginning of the 20th century was marked by the ideas and developments of Prosper L'Orange, which formed the basis for the success of the MWM brand. "His inventive genius is still noticeable throughout the company, in the heads of the employees", explains Uwe Sternstein, Director of Caterpillar Energy Solutions GmbH. "I would like to thank all current and former employees for their commitment, which has made the success of Caterpillar Energy Solutions possible."
During the inauguration of the plaque, Mannheim's mayor Christian Specht emphasized the significance of innovative pioneers and enterprises, especially with a view to the climate change and the energy transition. He said: "With its efficient MWM gas engines, Caterpillar Energy Solutions is making a major contribution to the energy transition. I am proud that we have an innovative company like Caterpillar Energy Solutions here in Mannheim."
150th Anniversary of the Traditional Brand MWM
This year, the Caterpillar Energy Solutions product brand MWM celebrates its 150th anniversary. On the occasion of this great anniversary, MWM will publish a book recounting the history and development of the MWM brand. Upon release, the book—which will be published in English and German—can be ordered via the MWM Web Shop. Apart from the book and a series of posts on the MWM social media channels Facebook and LinkedIn, the anniversary pipeline features some other highlights that will be rolled out in the course of the year.
Further information: