Mannheim, February 09, 2015
Since early February, Caterpillar Energy Solutions has presented itself in a new look with the launch of its corporate website. The modern and innovative website focuses on target group specific information on all aspects of the company, career opportunities for young talent, entry-level options for skilled employees and experienced professionals, along with training opportunities for customers, operators and sales representatives.
The Mannheim-based company Caterpillar Energy Solutions has been marketing the renowned MWM and Cat brands since 2013. Both brands stand for highly efficient and eco-friendly cogeneration power plants (CHP) for distributed power generation.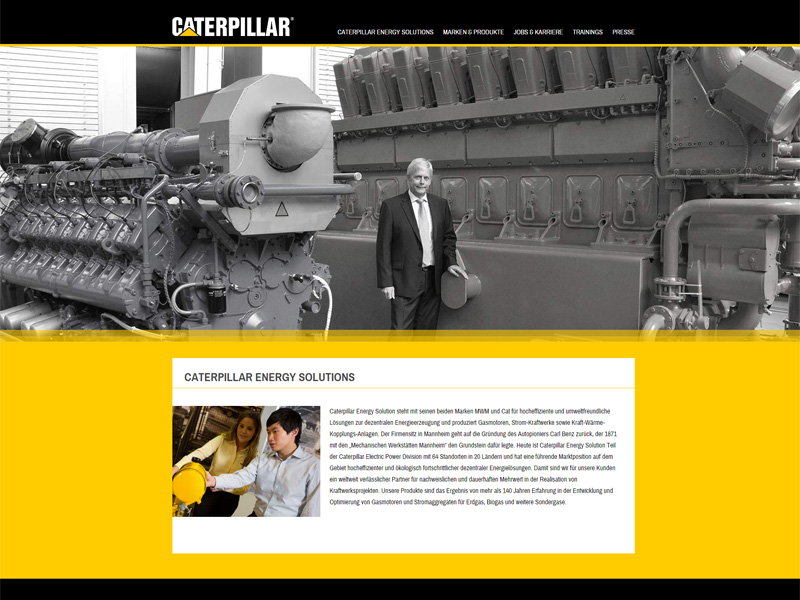 The gas engines in the Cat series are produced in Mannheim, Germany, and in Lafayette, U.S, and are well established in the market. They provide customers around the globe with electricity, powering the industries that drive the economy: agriculture, forestry, mining, oil exploration, construction, manufacturing, drilling platform maintenance, gas compression and power production. Cat power generation systems with an output range from 5 to 16,000 kWel not only meet the requirements of today – they are designed for the power supply needs of the future. MWM engines are produced exclusively in Mannheim, Germany, and typically have a power range from 400 kWel to 4,300 kWel. They can be operated with various types of gas, such as natural gas, shale gas, mine gas, biogas, landfill gas, sewage gas, and syngas.
The new website represents the company's "digital business card" and excels in its clear design with enhanced user functionality. The graphic configuration of the responsive website has been aligned to the requirements of the most common devices, such as desktops, laptops, tablets or smartphones, used to access the website. The new design stands out due to its fresh and modern page layout: Clearly structured areas provide for an intuitive user interface, elegantly combining functionality with design.