The relaunched MWM product brand website of Caterpillar Energy Solutions in Russian (www.mwm.com.ru) dons a new design. The new website for the Russian and Central Asian market—which is part of the digital communication strategy—visually highlights the MWM brand as a strong, competent brand in the field of distributed energy generation with highly efficient gas engines. The relaunch was rolled out in close coordination with the team of MWM Austria GmbH, which is responsible for the markets in Russia and Central Asia (CIS).
Content and Appearance: Focus on Application Areas and Services
The technical and visual revision of the website has resulted in an even clearer focus on the MWM gas engines as well as on products and services for district heating applications. The font has been replaced with a new, modern font for improved legibility, especially on digital devices. Apart from the conspicuous blue of the MWM brand, green has been integrated more prominently in the website's corporate design and is used as an accent color to highlight the colors of the MWM brand logo and enhance recognition. "By way of the technical changes and graphical optimization, the MWM brand has also adapted its communication strategy to the digital requirements of Industry 4.0", explains Frank Fuhrmann, Manager PR & Online Marketing, Caterpillar Energy Solutions. "The relaunched MWM website in Russian draws even more attention to energy topics and applications especially relevant to the energy market in Russia and Central Asia, e.g. in the field of district heating."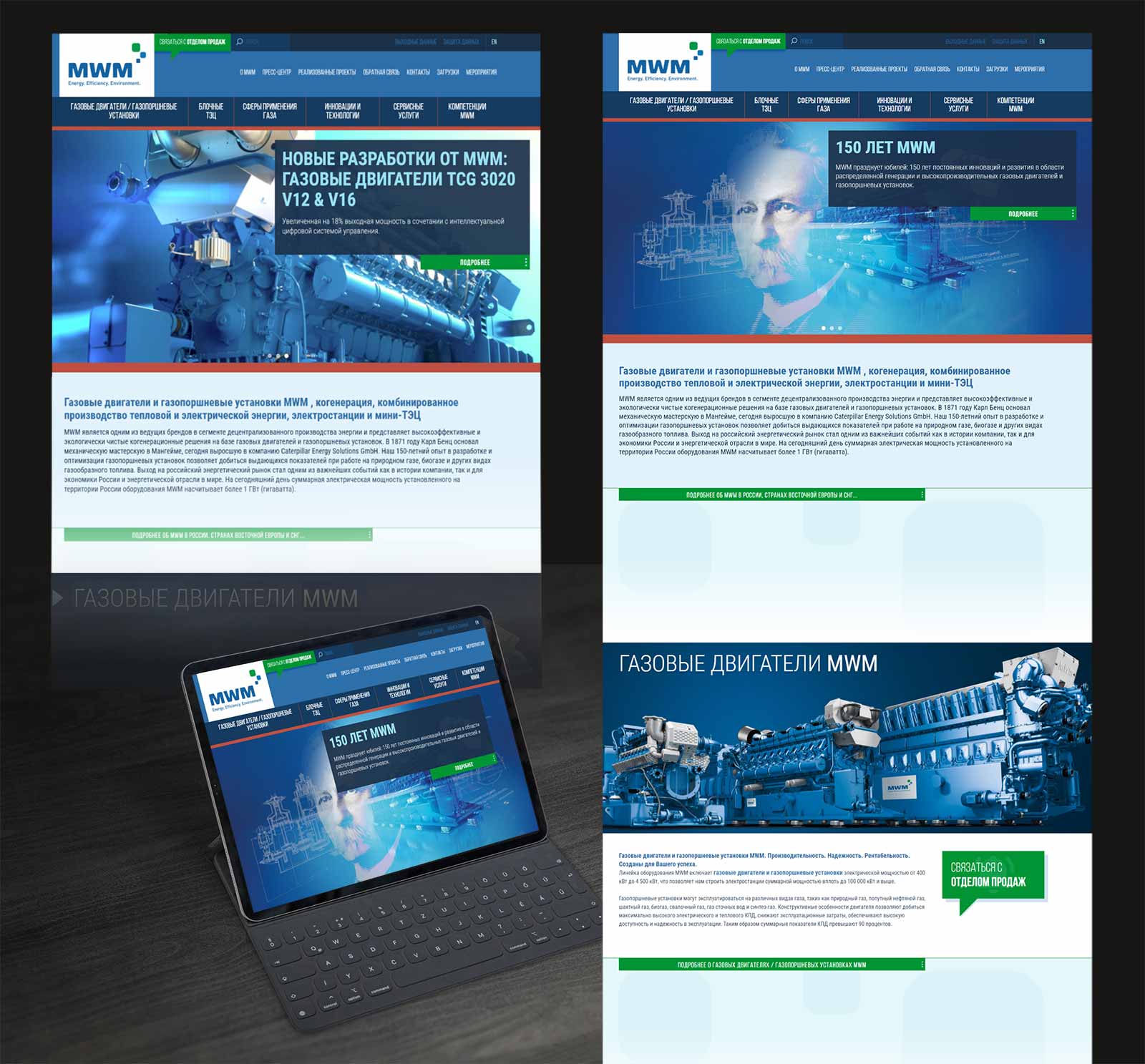 The newly designed website draws the attention of the target groups to MWM gas engines and cogeneration power plants, gas applications, and services. Thanks to the improved placement, it has become easier to find new products. The visually highlighted banners that take visitors to the the sales contact form streamline the formulation of service requests. The appearance of the "Gas Applications" category has also been revised in order to facilitate and speed up the search for various fields of application of MWM gas engines and cogeneration. The "References" category—which MWM customers and partners find very interesting—has been supplemented with a smart filter search function that enables efficient filtering for criteria such as the gas type, engine series, application, and output range. The relaunch also enables a stronger focus on special local events that address the Russian and Central Asian markets.
"With our relaunched website, we are proud to be able to position topics and projects relevant to the Russian and Central Asian energy market even more effectively and draw attention to the MWM brand as a trustworthy partner in these areas", explains Matthias Haaser, who is in charge of the Marketing/Training department at MWM Austria GmbH.
Further information: